Weekly Monthly
Access TENJIN
Weekly Monthly Access TENJIN
Access Tenjin is an accommodation with both convenience of weekly rental apartments and hospitality of hotels.
This is the only weekly/monthly rental apartment we operate in Fukuoka. We have no branches to focus on operating our only one apartment. It's a residential hotel that you can use daily, weekly, or monthly according to your convenience/purposes.
PLAN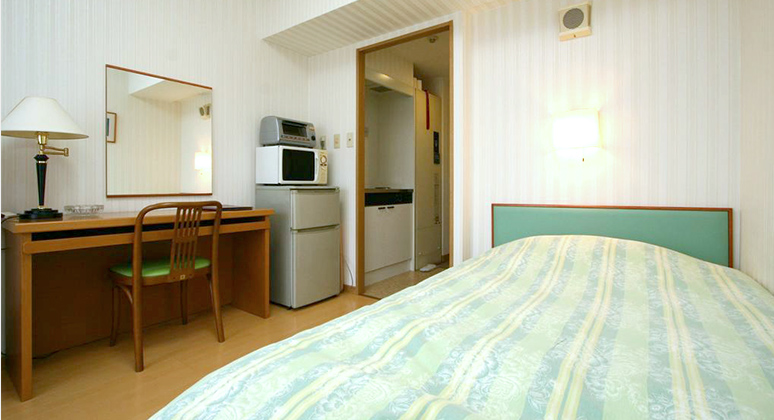 The room type is the most suitable for one person to stay for sight-seeing or business trips. All rooms are facing south with good sun exposure. They are fully equipped with bathrooms/toilets, air-conditioners and small kitchens. We offer unlimited free use of the Internet, as well as lend an iron, a pants presser etc.
PRICE
SINGLE ROOM
Monthly use
More than
30 nights stay
Weekly use
More than
6 nights stay
Within
5 nights stay
Room charge
3,800

yen

5,000

yen

7,800

yen

Special offer for members
3,500

yen

4,500

yen

5,900

yen
※All prices described here include tax and Utility charges.
※10,000 yen of deposit is necessary separately (refund when leaving). Deposit is not necessary for corporations.
※If two people stay in a single room, 1,000 yen per night is added.
※The period you can make a reservation varies depending on the number of stays. For more information, please contact us.
Reservation period

In case of staying for

more than 11 days

:

1 years before

your check-in date
In case of staying for

more than 10 days

:

60 days before

your check-in date
In case of staying for

more than 5 days

:

7 days before

your check-in date

Cancellation fees

On the day

:

100%

Day before your stay

:

50%

No-show

:

100%
Accepted credit cards
VISA、MasterCard、JCB、American Express、DinersClub

CARD
10% discount on accommodation fees!
Gift voucher for 1 free stay
Gift present service

Annual membership fee:3,000 yen (including tax)
※Your membership is renewed every year.
Point Cards
Only for Daily Users
Recommended for daily users!
1 free stay (7,800 yen -)
for 10 points

SERVICE
Free services
Room cleaning
(Once a month & after check-out)

Cleaning sheets/pillowcase
(Once a week)

Unlimited use
of the Internet for 24 hours a day

Various
equipment/
amenities

Free
water/coffee

Concierge
(Our staff is stationed for 24 hours a day.)
Facilities
All rooms with bath / toilet, air-conditioner and mini-kitchen
Facilities
Bed, air-conditioner, TV, refrigerator, microwave oven, desk, desk lamp, hair dryer, Internet connection, various pillows, kitchen, pans, rice cooker, frying pan, etc. Body soap, shampoo, conditioner, towels, and bath towel. All rooms are fully equipped with the above.
Services

Taking your clothes to the dry cleaner's/picking them up
Sending/receiving parcels/mails(For a charge)
Sending/receiving FAX (For a charge)
Laundry room

Rental Items

Free: pants presser, iron, rice cooker, blanket, DVD player
For a charge: bicycle (100yen per a day)
ACCESS

Weekly Monthly Access TENJIN

〒810-0004
3-10-7 Watanabe-dori, Chuo-ku, Fukuoka City, Fukuoka
TEL:+81-92-781-0080

Reception hours / 9AM ~ 9PM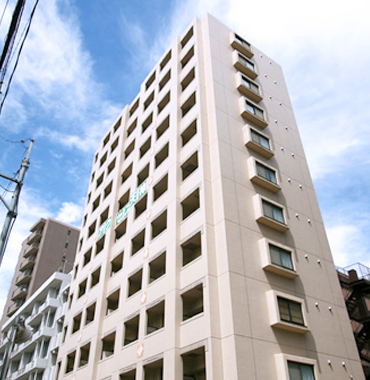 Means of Transportation
By Train

About 9 min walk from Fukuoka (Tenjin) Station on Nishitetsu Line
About 12 min walk from Tenjin Station on Subway Kuko/Hakozaki Line
About 3 min from Watanabe-dori Station on Subway Nanakuma Line

By Bus

About 2 min walk from Watanabe-dori 2-chome Stop on Nishitetsu Bus

By Car

About 10 min from Tenjin-kita Exit on Fukuoka Expressway
5-10 min by taxi from Hakata Exit at JR Hakata Station
20 min by car from Fukuoka Airport
Access from main stations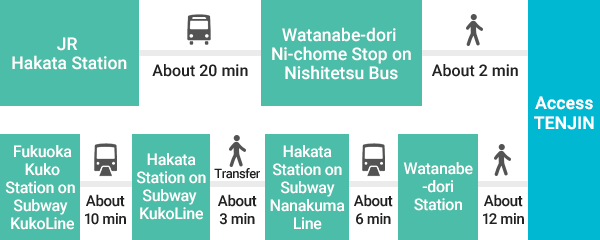 LOCATION
Shopping facilities

Canal City Hakata


approx. 7 min.

Tenjin Daimaru


approx. 6 min.

Iwataya Tenjin


approx. 12 min.

Fukuoka Mitsukoshi


approx. 8 min.

LOFT


approx. 4 min.

IMS


approx. 7 min.

Fukuoka PARCO


approx. 10 min.

Convenience store

Seven-Eleven


approx. 1 min.

Family Mart


approx. 30 seconds.

Lawson


approx. 2 min.

Ministop


approx. 2 min.

Supermarket

SUNNY


approx. 5 min.

Tabegorohyakushunkan


approx. 3 min.

Nishitetsu-storeReganet Marche Yakuin


approx. 10 min.

Lunch vendor

Hotto Motto


approx. 3 min.

Post office

Fukuoka Haruyoshi post office


approx. 4 min.

Watanabe dori post office


approx. 4 min.
RESERVE